Guide for courses evaluation and upgrading
Although the project main actors, tutors and learners, have reached the envisaged work targets, and the global experience within this group has been positively evaluated, there is always a need of analysing and improving, if necessary. In this context, the Guide for courses evaluation and upgrading, synthesize the relevant aspects and conclusions drawn after each partner evaluation.
4. Analysis of the information provided by the partner institutions
4.4. Analysis of the feed-back questionnaires
Considering that the feedback is an element of self-regulation of any process / activity, in terms of training activities were completed feedback questionnaires, which focused on the following issues:
Level of accessibility and diversity of the modules
Correlation with the requests of your field of activity
Contribution to personal development
General level of usefulness
Duration and structure of the course
Course support materials
Logistics for course's organization
Lecturers
E-learning interaction
The result of processing the feedback questionnaires received from all partners is presented in Table 4 and graphically illustrated in the Figure 12.
Table 4
No

TOPIC

EVALUATION

INCDTP Buc.1

Uni. Minho

TZU Brno

Uni. Maribor

TU Iasi

INCDTP Buc.2

1.

Level of accessibility and diversity of the modules

4

4

4

5

4

4

2.

Correlation with the requests of your field of activity

3

4

3

4

3

4

3.

Contribution to personal development

4

5

3

4

5

4

4.

General level of usefulness

4

5

3

4

3

4

5.

Duration and structure of the course

5

4

3

5

3

3

6.

Course support materials

5

4

4

5

5

4

7.

Logistics for course's organization

4

5

3

4

5

5

8.

Lecturers

4

5

3

5

5

4

9

E-learning interaction

4

4

3

5

4

4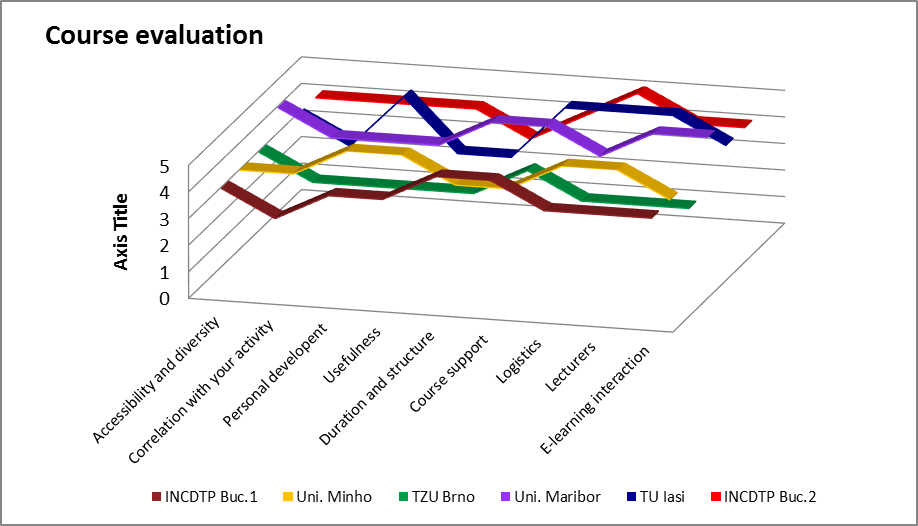 Figure 12